Destination Development: Definition and Process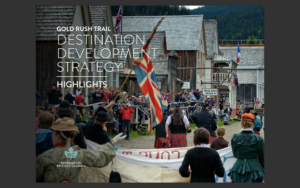 We play an active, leading role in the development of tools that drive interest and growth in tourism assets for visitors to experience our region. Namely through our education and involvement in the destination development program process.
"Destination development" is defined by our provincial crown corporation, Destination BC, as "the strategic planning and advancement of defined areas to support the evolution of desirable destinations for travellers, with a sole focus on the supply side of tourism, by providing compelling experiences, quality infrastructure, and remarkable services to entice repeat visitation".
In the Cariboo Chilcotin Coast, as well as other regions across the province, participants have been creating multiple 10-year destination development strategies which will inform six regionally specific strategies. In turn, these strategies will then inform the creation of a single, overarching provincial destination development strategy. We're part of first working together at the grass-roots level with local, regional and provincial agencies, Indigenous communities, destination marketing organizations (DMOs), industry organizations, and tourism operators which then through the implementation of the strategies will guide the long-term growth of tourism experiences and revenues within the province.
Through destination development, we envision BC as a continued world-class tourism destination which offers remarkable products and experiences that are authentic, driven by visitor demand, and exceed expectations.
For information about the provincial destination development process click here.
Destination Development Program Goals
Make British Columbia the most highly recommended destination in North America.
Create strategic plans for tourism development and improve return-on-investment for government and private sector investments in tourism assets.
Elevate British Columbia's ability to compete as a premium destination while making the province more attractive for investment.
Our Region: Breakdown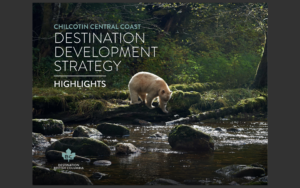 The ten-year Destination Development Strategies for this region were formed through an iterative, consultative and collaborative process which started in 2016. This region includes three primary planning areas which are the Chilcotin Central Coast, the Gold Rush Trail and, Interlakes.  The region is inclusive of Klemtu, Bella Bella and Wuikinuxv in the west, Lillooet and Yale in the south along with New Westminster on the Gold Rush Trail, Hartley Bay, Entiako and Finger-Tatuk Provincial Parks in the north and Wells Gray Park, Barriere and Clearwater in the east.  The region also includes a vast array of over 50 First Nations.
Chilcotin Central Coast highlights can be found here.
Interlakes highlights can be found here.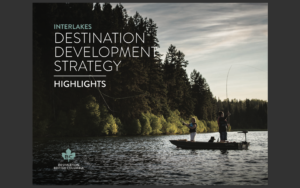 Gold Rush Trail highlights can be found here.
Our regional tourism profile, which outlines a variety of information including where our visitors are coming, how long they are staying, what they are searching for when in our region and much more can be found in this regional tourism profile.
Boundary Maps