CEO Update April 2019
Growing our team to serve you better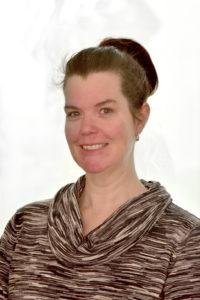 Jolene Lammers
The newest member of the destination development team, Jolene Lammers, hails from the great white north. Born in Whitehorse, Yukon, there was lots of time spent outdoors. At the age of 13, her family moved to Vancouver and weekends were spent on the boat fishing, kayaking and touring around the Gulf Islands. Three years ago she moved from the coast to the Cariboo and has enjoyed geocaching and exploring the area with her family. Jolene's hobbies include drawing and painting. She is excited to bring her diverse skills and passion to the CCCTA to help bring tourism to BC. In her new role as Destination Development Coordinator, Jolene will be working to assist our partners and region to complete the destination development consultation, planning and implement priorities.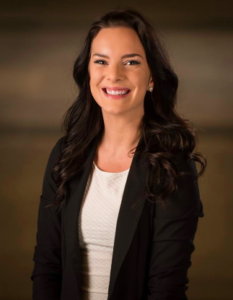 Sydney Redpath
Also, please welcome the first member of the new Cariboo Chilcotin Coast Tourism Marketing Association! Sydney Redpath just graduated with a double major in Finance and Marketing from the University of Northern BC, and has forever considered BC to be one of the most beautiful places to work and call home. When she isn't pursuing her passions for marketing and entrepreneurship, Sydney can be found hiking, on the lake, or trying to find the perfect cup of coffee. As Confidential Executive Secretary, Sydney provides administrative support to the new Marketing Committee and CEO to ensure your marketing priorities get the attention they deserve.
Cariboo Chilcotin Coast Tourism Association signs MOU with Indigenous Tourism BC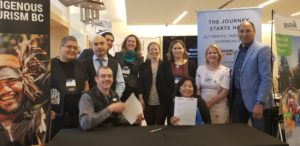 Indigenous Tourism BC (ITBC) and the Cariboo Chilcotin Coast Tourism Association (CCCTA) signed a Memorandum of Understanding (MOU) at the BC Tourism Industry Conference in Vancouver, the shared traditional territory of the Tsleil-Waututh, Musqueum, and Squamish Nations. The MOU establishes a coordinated and collaborative approach in promoting growth and increased awareness of Indigenous tourism in the Cariboo Chilcotin Coast region.
Read more on this historic announcement here.
Seeking new partners
Cariboo Chilcotin Coast Tourism Association has issued requests for proposals on two major projects. The Gold Rush Trail is seeking a partner to design a new website and execute a digital contest with landing page creation and, Land Without Limits is seeking a partner to significantly expand the consumer facing website. If you or someone you know would be a great fit on these projects please share the attached documents.
Mountain cariboo recovery engagement
The purpose of this notice is to notify you that the Government of British Columbia has extended the deadline for the caribou recovery engagement process for the draft Bilateral Conservation Agreement under Section 11 of the federal Species at Risk Act ("Section 11 Agreement") and draft Inter-Governmental Partnership Agreement for the Conservation of the Central Group of the Southern Mountain Caribou ("Partnership Agreement").  Feedback will now be accepted until May 31, 2019.
Please visit https://engage.gov.bc.ca/caribou/section11agreement/ for detailed information about the draft agreements, as well as maps, information bulletins and Frequently Asked Questions. You can provide feedback via the online feedback form.
Again, the Province of BC looks forward to hearing your feedback on these important caribou recovery initiatives.
Image use agreements
It is critical that you have the correct documents for images you use to promote your business or share with the CCCTA team. With regularly changing regulations surrounding privacy and consent, we are reacting as quickly possible but we need your help.
Here are examples of our model releases (required if faces or identifying features are visible), property releases (required if your image is on private property and not taken at a public event) and photographer contracts (required under copyright law to use another's photograph). If you have any concerns or questions, please contact a member of the team.
Free social media and content webinar
With the peak season around the corner, our best opportunities to promote the destination through visual marketing are upon us! In this webinar, you'll join Social Media & Content Manager Jonny Bierman in a step-by-step presentation on:
How and when to use social media
The difference between the key social media channels
The use of photographers content & rights agreements
How to take and edit simple photo and videos with a smartphone (and send them to Jonny to amplify through CCC channels!)
Join us on May 9, 2019 at 10:30 am for a 1 hour interactive webinar. Please note that a sufficient internet connection will be needed to participate. If this is not possible, we can send a copy of the presentation to view offline.
To sign up, please email Jonny at social@landwithoutlimits.com and confirm if you will participate live online or need a presentation sent to you.
Update on The Northern Sea Wolf
BC Ferries has confirmed sea trials have been successful with The Northern Sea Wolf. All bookings that have been waitlisted are now being accepted on to the Route 28 'direct service' starting June 3, 2019 between Bella Coola and Port Hardy. Open house events and brief ceremonies are being coordinated in both communities with the opportunity for the public to tour the ship.
Save the date – Tourism Summit & AGM 2019
The annual Cariboo Chilcotin Coast Tourism Summit and AGM will be on November 1-3, 2019, hosted by Barkerville Historic Town & Park. Save the date in your calendar and watch for more details coming soon!
New story guide arrives – order yours today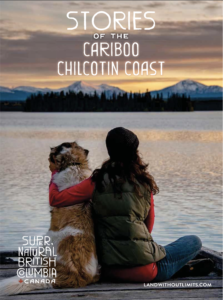 We've made some changes to the format of our yearly travel guide, and we think you'll be excited to see them. One of the most asked questions to our staff over our travels is that of
"stories", and our new guide reflects that. The 2019 Guide has now arrived and will be begin delivery and shipping. To order copies for your business or organization email: Mareike@landwithoutlimits.com